Let's face it! The holidays are upon us and that means there will be food everywhere.
For some people, the holidays can be a source of stress because they are on a diet for health reasons.
Thanksgiving is coming up and everyone loves a good cornbread recipe. Not only is this recipe easy, but the cornbread is delicious. It is also heart healthy. It only has 178 calories and 94mg of sodium.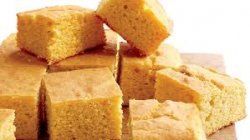 Good-for-You Cornbread
This is not only good for you but good in you—making it a healthy
comfort food.
1 cup cornmeal
1 cup flour
¼ cup sugar
1 teaspoon baking powder
1 cup low-fat (1%) buttermilk
1 egg, whole
¼ cup margarine, regular, tub
1 teaspoon vegetable oil (to grease baking pan)
1. Preheat oven to 350o F.
2. Mix together cornmeal, flour, sugar, and baking powder.
3. In another bowl, combine buttermilk and egg. Beat lightly.
4. Slowly add buttermilk and egg mixture to dry ingredients.
5. Add margarine and mix by hand or with mixer for 1 minute.
6. Bake for 20–25 minute in an 8 x 8-inch, greased baking pan, 
7. Cool and cut into 10 squares
Yield: 10 servings
Serving size: 1 square
Calories 178
Total Fat 6 g
Saturated Fat 1 g
Cholesterol 22 mg
Sodium 94 mg
Total Fiber 1 g
Protein 4 g
Carbohydrates 27 g
Potassium 132 mg
Make a nice pot of Gumbo to go with the cornbread!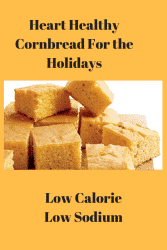 Delicious cornbread is a staple for home cooked meals. This cornbread is wonderful with homemade chili or any soups.  Cornbread is also good with orange beef recipe.
If you try this recipe, leave me a message to let me know how you enjoyed it!
---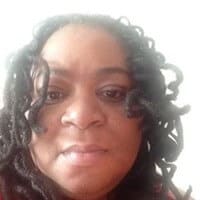 My name is Phyllis Robinson MSN, RN. I have been a Registered Nurse for 27 years in the Cardiac Intensive Care Unit. I am passionate about cardiac care and heart disease. I also want this blog to be an educational tool that people can refer to for traditional and alternative treatment. I will blog on heart disorders such as high blood pressure, congestive heart failure, cardiomyopathy, and high cholesterol.
I received my Nursing degree from Baltimore Community College.
I went on to receive my Masters in Nursing from Walden University
I have worked for almost 30 years in Critical Care with a focus on heart health. I am an advocate of preventive healthcare.