Updated 6/13/2018
 Each year approximately 700,000 people have a heart attack. Heart attack survivors are at an increased risk for recurrent heart attacks and sudden cardiac death. Each phase of cardiac rehabilitation involves phases that build the previous phase. The four phases of cardiac rehab are : 
Phase One Cardiac Rehab: The Acute Phase. The initial phase of cardiac rehabilitation occurs soon after your cardiac event. …
Phase Two Cardiac Rehab: The Subacute Phase
Phase Three: Intensive Outpatient Therapy
Phase Four: Independent Ongoing Conditioning
Phases of Cardiac Rehabilitation Physical Therapy
Although cardiac rehab has been associated with improved quality of life and survival rates, the majority of people do not participate in cardiac rehab. There are 3 phases in cardiac rehabilitation. 
Cardiac rehab consists of programs involving medical evaluations, prescribed exercise, cardiac risk factor modifications, and education. These programs are conducted in hospital settings, outpatient settings, and freestanding clinics.
What is Cardiac Rehabilitation ( Overview and Stages)
 Years ago,  cardiac patients were treated as if they were fragile and about to die any minute. They were put on bedrest and told not to participate in any physical activity. Life expectancy was reduced because there were limited medications and limited diagnostic tests. The focus was on bedrest and avoidance of stress. Heart attack patients were placed on six weeks of bedrest. In 1950, the concept of cardiac rehab was originated. With the invention of more sophisticated coronary care units, cardiac rehab began.
What is Cardiac Rehab: Admission into a Cardiac Rehab Program
Before a patient is admitted to a cardiac rehab program, every patient has to have a clinical assessment which must include a medical and cardiology consultation. They also must have an ECHO to assess their left ventricle functioning. Sometimes the patient will also have a 24 hour Holter monitoring.
What is Cardiac Rehab Program: Risk Reduction Strategies
    Cardiac rehabilitation includes:
Exercising and physical training

Nutritional counseling

Smoking cessation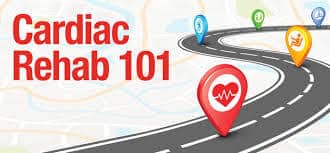 Diabetes

Psychosocial intervention

Management of lipid levels and long-term management
What is Cardiac Rehabilitation: Who Should get Cardiac Rehab?
Patients with Acute Coronary Syndrome

Newly diagnosed heart failure, and chronic heart failure with a change

Patients with heart transplants and LVAD

 Patients who have had ICD insertions

Patients with exertional chest pain, and

Patients with heart valve replacements