Stir Fried Orange Beef
Prep time: 10 minutes
Cook time: 20 minutes
Tangy orange-flavored beef with crisp vegetables
1 bag (12 oz) frozen vegetable stir-fry
1 Tbsp peanut or vegetable oil
1 Tbsp onion, minced (or ½ Tbsp dried)
1 Tbsp garlic, minced (about 2–3 cloves)
1 Tbsp ginger, minced
1 egg white, lightly beaten (or substitute liquid egg white)
2 Tbsp cornstarch
12 oz beef flank steak, sliced into thin strips
3 Tbsp Hoisin sauce
1 Tbsp lite soy sauce
½ C orange juice
1 Tbsp dry sherry (optional)
1 Thaw frozen vegetables in the microwave (or place entire bag in a bowl of hot water for about 10 minutes). Set aside until step 7.
2 Heat oil in a large wok or sauté pan.
3 Add onion, garlic, and ginger and stir fry until tender but not brown, about 30 seconds to 1 minute.
4 Put egg white in one bowl and cornstarch in another. Dip steak strips into egg white and then coat with cornstarch.
5 Add steak strips to pan and continue to stir-fry until steak strips are lightly browned about 5–8 minutes.
6 Add Hoisin sauce, soy sauce, orange juice, and sherry (optional), and bring to a boil over high heat. Immediately lower temperature to a gentle simmer.
7 Add the thawed vegetables and mix gently. Simmer until vegetables are heated through, about 3–4 minutes.
8 Divide mixture into four equal portions.
[su_note]yield: 4 servings serving size: 2 C meat and vegetables each serving provides: calories 261 total fat 9 g saturated fat 2 g cholesterol 28 mg sodium 418 mg total fiber 3 g protein 23 g carbohydrates 23 g potassium 648 mg [/su_note]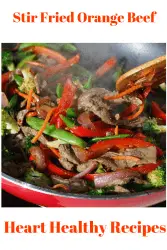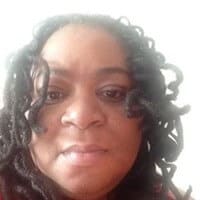 My name is Phyllis Robinson MSN, RN. I have been a Registered Nurse for 27 years in the Cardiac Intensive Care Unit. I am passionate about cardiac care and heart disease. I also want this blog to be an educational tool that people can refer to for traditional and alternative treatment. I will blog on heart disorders such as high blood pressure, congestive heart failure, cardiomyopathy, and high cholesterol.
I received my Nursing degree from Baltimore Community College.
I went on to receive my Masters in Nursing from Walden University
I have worked for almost 30 years in Critical Care with a focus on heart health. I am an advocate of preventive healthcare.