Absolutely, apricot-glazed brisket can be a mouthwatering dish that can be both delicious and healthy, especially if prepared with a low-carb twist.
Brisket, a flavorful cut of meat, when combined with a tangy and slightly sweet apricot glaze, creates a delightful blend of flavors that can tantalize the taste buds.
Here's a simple recipe for a delightful low-carb apricot-glazed brisket: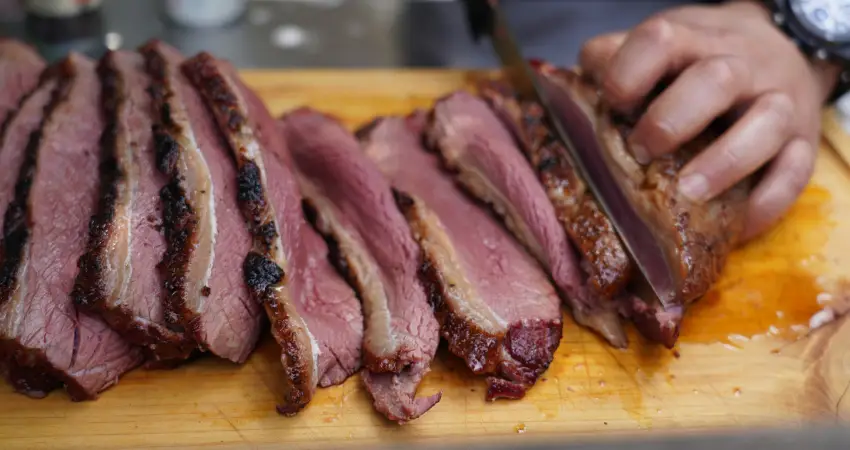 Apricot-Glazed Brisket
Prep Time: 10 Minutes
Style:American
Cook Time: 210 Minutes
Phase: Phase 2
---
INGREDIENTS
4 lbs Beef Brisket (Whole, Lean Only)
2 tsps Salt
2 tsps Paprika
1 tsp Black Pepper
3 tbsps Sugar Free Apricot Preserves
DIRECTIONS
Heat oven to 475 °F.  Season brisket with salt, paprika and pepper.
Place brisket fat side down in a Dutch oven. Scatter onions and carrots around the beef. Cook 15 minutes.
Turn brisket fat side up and add 1/2 cup water.  Cover tightly.  Reduce oven temperature to 375°F.  Cook 3 to 4 hours, until brisket is fork tender.
Heat broiler. Remove brisket from Dutch oven and place on a broiler pan. Spread jam over brisket. Broil 6 from heat source 5 minutes, until jam is lightly browned in spots. While brisket is broiling, remove onions and carrots from cooking juices.
Cover brisket with foil and allow to rest 15 minutes before serving.  Remove surface fat with a spoon and  serve with degreased cooking juices.
Conclusion
In conclusion, this recipe for a delightful low-carb apricot-glazed brisket is a wonderful way to enjoy a flavorful and delicious dish. Whether you are serving it for a family dinner, or a special gathering, this dish is bound to be a hit.