Potato and Spinach Curry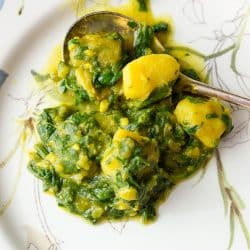 This is a hearty, warming spicy curry. The lemon juice really makes it zing.
Serving 2
1 tbls sunflower oil
4 shallots, finely chopped
2 cloves garlic, roughly chopped
1 large potato in large cubes
100-150g fresh spinach, finely chopped
1 whole chili, slit down the middle
200g tin chickpeas
1 tbls tomato puree
stock
salt & pepper
lemon juice to serve
1 tsp paprika
1 tsp curry powder
1 tsp cumin seeds
1 tsp turmeric
1 tsp garam masala
Parboil the potato for five minutes.
Saute the shallots and garlic. Add cumin seeds, and stir for five minutes. Add the other spices and the tomato puree and cook for a further 2-3 minutes. Add the potato and cook for another 2-3 minutes, then add stock and enough water to cover. Bring to the boil and simmer for 15-20 minutes, until the potato is almost cooked, topping up water as necessary.
Add the spinach and chickpeas, and cook for another 10 minutes or so. Squeeze lemon juice on to serve.
Coconut Rice (with peas)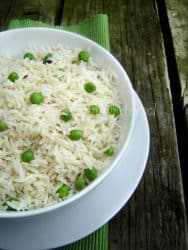 A variation on the basic rice recipe. The coconut, peas and fried onions make for a really tasty side dish.
Serving 2-3
½ mug peas (optional)
1 mug white basmati rice, rinsed
½ onion, sliced
2 cardomon pods
4 cloves
½ tsp dried herbs
1 bay leaf
1-inch chunk creamed coconut
black pepper
1 ½ mugs water
Fry the onion till browned. Add herbs, rice, creamed coconut, and water. Grind in plenty of black pepper. Cook exactly as per usual rice recipe:
Rinse the rice, add it and the measured water to the pan. Bring to the boil, then simmer for 12 minutes. DON'T TAKE THE LID OFF!
Turn off the light, and let it steam for a further five mins.
This works equally well with virtually any variation of the ingredients, ie, just peas, or just herbs, or onions and coconut.
Two Potato Curry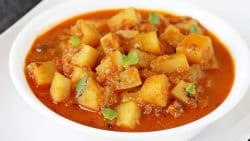 This is a nice, hearty curry. Good as an accompaniment to a richer, hotter or zingier one.
Serving 2-3
1 tablespoon oil
1 large sweet potato, cut into chunks
200g tinned tomatoes
1 tablespoon tomato puree
1 tsp cumin seeds
½ tsp ground coriander
1 tsp dried fenugreek leaves
1 onion, sliced
2 cloves garlic, crushed
½ lb potatoes, cut into chunks
200g tin chickpeas
1 tsp black mustard seeds
1 tsp turmeric
½ tsp  paprika
Heat the oil, and gently fry the onion, cumin and mustard seeds and garlic for 5-10 minutes, until softened. Add the ordinary potatoes, but not the sweet ones yet. Stir to coat in the oil over a low light for 5-10 minutes.
Add the spices, tomatoes, and sweet potatoes. Sweet potatoes cook much faster than the ordinary ones, so as well as adding them in later, it's advisable to chop them a bit bigger. Top up with enough water to cover the potatoes, and cook for 20-30 minutes, until the potatoes are soft. When the potatoes are cooked, add the drained chickpeas, and allow them to warm through. Season well with salt and pepper.
Butter Bean Soup
1 green bell pepper
1 onion
2 cloves garlic
olive oil
1-14 oz can vegetable broth
2-15 oz cans butter beans (drained and rinsed)
cumin (to taste)
flour
Chop onion, green pepper (you should have about equal amounts of each, I'd say use about 1 pepper and an equivalent amount of onion), and garlic. Sautee in the bottom of medium-sized soup pot in olive oil until they're softer but not brown.
Add vegetable broth and butter beans, let boil. Add a few pinches of flour to thicken. Let it boil until it reaches the desired thickness. In the meantime, add as much or as little cumin as you'd like.
Serve as is or with fresh diced tomatoes on top. Yum!
(Butter beans don't actually have butter in them, they're just lima beans that are normally served with butter)
Servings:
Delicious Vegan Recipes
These are some delicious vegan recipes that are also low carb.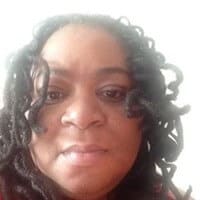 My name is Phyllis Robinson MSN, RN. I have been a Registered Nurse for 27 years in the Cardiac Intensive Care Unit. I am passionate about cardiac care and heart disease. I also want this blog to be an educational tool that people can refer to for traditional and alternative treatment. I will blog on heart disorders such as high blood pressure, congestive heart failure, cardiomyopathy, and high cholesterol.
I received my Nursing degree from Baltimore Community College.
I went on to receive my Masters in Nursing from Walden University
I have worked for almost 30 years in Critical Care with a focus on heart health. I am an advocate of preventive healthcare.