Low Carb Jerk Chicken Wings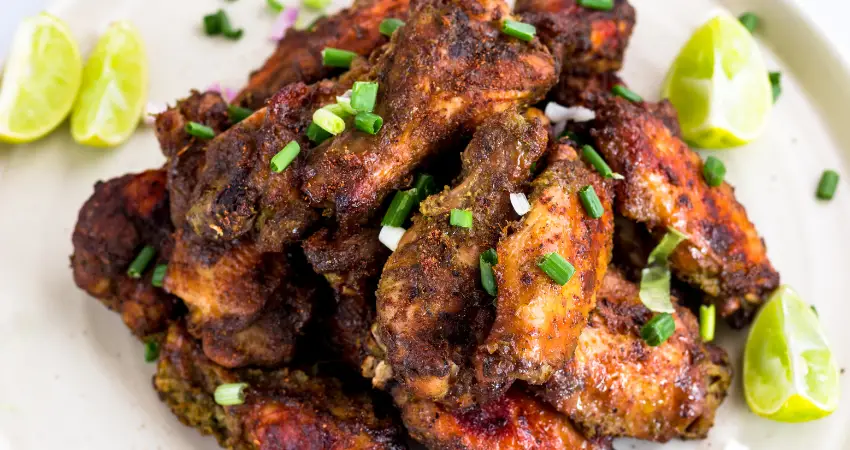 (makes 6-8 servings)
Ingredients
1/2 cup malt vinegar
2 tablespoons dark rum
2 scotch bonnet peppers, one de-seeded, the other with seeds, both chopped
1 red onion, chopped
4 green onion tops, chopped
2 tablespoons fresh thyme leaves, chopped
2 tablespoons olive oil
2 teaspoons salt
2 teaspoons black pepper
4 teaspoons allspice
4 teaspoons ground cinnamon
4 teaspoons ground nutmeg
4 teaspoons ground ginger
2 tablespoons dark brown sugar
1 tablespoon soy sauce
2 teaspoons molasses
5lbs chicken wings
1/2 cup lime juice
salt and pepper
Directions
Put vinegar, rum, hot peppers, onion, green onion tops, thyme olive oil, salt, pepper, allspice, cinnamon, nutmeg, ginger, brown sugar, soy sauce, and molasses in a blender or food processor. Pulse until mostly smooth.
Place the chicken in a large freezer bag or roasting pan or baking dish. Pour the lime juice over the chicken and coat well. Add the jerk paste to the chicken pieces and coat well. Seal the bag or cover the pan with the chicken with plastic wrap. Refrigerate overnight.
When ready to cook the chicken, remove the chicken from the bag or pan. Put the remaining marinade in a small saucepan. Bring to a boil, reduce the heat, and simmer for 10 minutes. Set aside to use as a basting sauce for the chicken.
Preheat the grill to medium high. Sprinkle the chicken with salt and pepper. Place the chicken on the grill and cover. Cook for 12-15 minutes, basting occasionally with the cooked marinade. When done, the chicken should be completely cooked.
Transfer the chicken to a platter, tent loosely with foil, and let rest for 10-15 minutes. Serve hot with beans and rice.
Enjoy!
Low Carb Heart Healthy Jerk Chicken Wings
Low-carb jerk chicken wings are a flavorful and satisfying option for those following a low-carbohydrate diet. Jerk seasoning is a traditional Jamaican spice blend that adds a combination of heat and aromatic flavors to the chicken wings. The seasoning typically consists of ingredients such as scotch bonnet peppers, allspice, thyme, garlic, ginger, and various other herbs and spices.
To make low-carb jerk chicken wings, you can start by marinating the wings in a homemade jerk seasoning or using a store-bought low-carb jerk marinade. If you're making your own, ensure that you use low-carb ingredients or substitutes for any high-carb elements. Let the wings marinate for a few hours or overnight to allow the flavors to penetrate the meat.
When you're ready to cook the wings, you have a few options. You can grill them over medium-high heat for a smoky and charred flavor, or you can bake them in the oven at around 400°F (200°C) until they are cooked through and crispy. If you choose to bake them, place the wings on a baking sheet lined with parchment paper or a wire rack to allow the excess fat to drain.
Low-carb jerk chicken wings can be enjoyed on their own as a delicious appetizer or paired with a low-carb dipping sauce like ranch dressing or a homemade yogurt-based sauce. To add some freshness to the dish, you can serve them with a side of crispy celery sticks or a refreshing cucumber salad.
Remember, when following a low-carb diet, it's important to pay attention to the ingredients in your jerk seasoning or marinade to ensure they align with your dietary goals. By adapting the traditional jerk chicken wings. Alldayidreamaboutfood.com has awesome jerk recipes.