Low-Carb Banana Pumpkin Muffins: A Tasty and Healthy Recipe
Are you looking for a muffin recipe that fits into a low-carb diet? Look no further! These low-carb banana pumpkin muffins are delicious and easy to make. Plus, they're a perfect snack for anyone watching their carb intake. Let's get started!
Low Carb Banana Pumpkin Muffin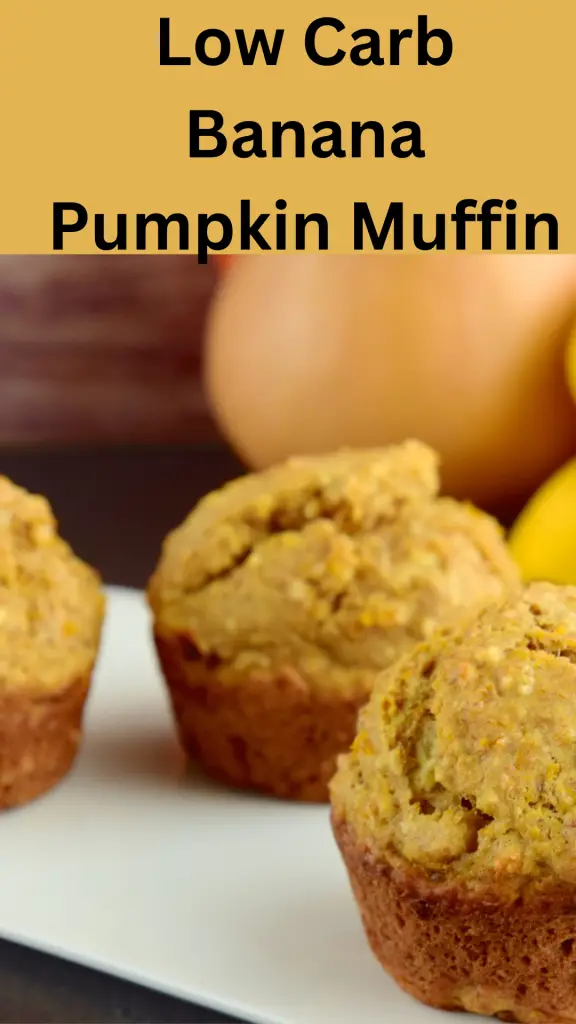 Ingredients
1 cup almond flour
1/2 cup coconut flour
1 teaspoon baking soda
1/2 teaspoon salt
1 teaspoon ground cinnamon
1/2 teaspoon ground nutmeg
2 ripe bananas, mashed
1 cup canned pumpkin puree
2 eggs, beaten
1/4 cup melted coconut oil
1 teaspoon vanilla extract
Optional: A handful of walnuts or pecans for added crunch
Steps to Make Low-Carb Banana Pumpkin Muffins
Preheat the Oven and Prepare the Muffin Tin
Preheat your oven to 350°F (175°C).
Line a muffin tin with paper liners or lightly grease it with oil.
Mix Dry Ingredients
In a large bowl, mix together the almond flour, coconut flour, baking soda, salt, cinnamon, and nutmeg. Make sure everything is well combined.
Prepare the Wet Mixture
In another bowl, mash the ripe bananas with a fork.
Add the canned pumpkin puree, beaten eggs, melted coconut oil, and vanilla extract to the mashed bananas. Stir until well mixed.
Combine Dry and Wet Mixtures
Add the wet mixture to the dry mixture.
Stir just until all the ingredients are combined. Don't overmix; it's okay if there are some lumps.
If you're using nuts, fold them into the batter.
Fill the Muffin Tin and Bake
Spoon the batter into the prepared muffin tin. Fill each cup about 3/4 full.
Bake for 20-25 minutes, or until a toothpick inserted into the center of a muffin comes out clean.
Nutrition Counts for Low-Carb Banana Pumpkin Muffins
Understanding the nutrition of what you eat is important, especially if you're watching your carb intake. Below are the estimated nutrition counts for one low-carb banana pumpkin muffin made using the recipe above.
Estimated Nutrition Per Muffin:
Calories: 150
Total Fat: 10g
Saturated Fat: 4g
Cholesterol: 30mg
Sodium: 200mg
Total Carbohydrates: 10g
Dietary Fiber: 4g
Sugars: 3g
Protein: 4g
Net Carbs: 6g
Please note that these are approximate numbers and can vary based on exact ingredient brands and measuring methods used. If you're strictly counting carbs or following a specific diet, it's always best to calculate the nutrition facts yourself using the specific brands and amounts you use.
These low-carb banana pumpkin muffins are a healthier alternative to traditional muffins. With almond flour and coconut flour as substitutes for regular flour, they are lower in carbs. The bananas and pumpkin puree give natural sweetness, so you don't need to add extra sugar. And the coconut oil provides healthy fats.
So, enjoy these tasty and healthy muffins without worrying too much about your carb count!
Enjoy Your Banana Pumpkin Muffins
Remove the muffins from the oven and let them cool in the tin for about 5 minutes. Transfer to a wire rack to cool completely.
Number of Servings for Low-Carb Banana Pumpkin Muffins
The recipe for low-carb banana pumpkin muffins should yield about 12 muffins. So, the number of servings would be 12, with one muffin being a single serving.
If you need fewer or more muffins, you can easily adjust the recipe. For example, if you want to make only 6 muffins, you can halve all the ingredients. Similarly, if you want to make 24 muffins, you can double the recipe. Just make sure to keep an eye on the baking time if you're making more or fewer muffins, as it may vary.
Remember, the nutrition counts provided earlier are per serving, meaning per muffin. So, if you're keeping track of your carb intake or other nutritional elements, each muffin would contain those estimated amounts.