Monitoring blood pressure is critical for a person who has fluctuating blood pressure levels. It is advisable to have a blood pressure machine at home, to monitor blood pressure regularly. There are a variety of blood pressure machines available in the market. Now, which one to buy is a big question?
Best Portable Blood Pressure Machine
There are a few things that you must remember while buying a blood pressure machine. There are different types of blood pressure machines – Upper arm, wrist, manual, and digital monitors.
The upper arm monitor is known to give accurate readings. However, you need to ensure the cuff fits well on your upper arm. If it is too big or small for your arm, it will give incorrect readings.
The wrist monitors are smaller and compact as compared to the upper arm monitors. However, the readings of upper arm monitors are known to be more accurate as compared to the wrist monitors. The manual ones are the traditional ones. It is known to be quite accurate and is cheaper than the digital ones. Digital monitors are the new age blood pressure monitors. It can save your readings on your smart-phone.
You can refer back to your previous readings and compare them with your current readings. However, it is advisable to buy a simple blood pressure monitor than a complicated one. The idea behind buying a simple device is that you should be able to monitor your blood pressure with ease, without having to deal with a complicated machine.
To help you choose the best blood pressure machine, here are the three best blood pressure machines in the market:
DrKea+ K900 Pro Upper Arm Blood Pressure Monitor
Omron BP786 – 10 Series Upper Arm Blood Pressure Monitor Plus Bluetooth Smart
Paramed – Automatic Wrist Blood Pressure Monitor
DrKea+ K900 Pro Upper Arm Blood Pressure Monitor
DrKea+ K900 pro is a fully automatic monitor. It is tested as well as tried by physicians and is very accurate in monitoring the blood pressure.
It is quite simple to use the device. A person who is not technologically savvy will find this device quite simple and easy to use. You only need to press the "ON" to turn on the machine. The big LED screen makes it easy to read the readings on the monitor for senior citizens and users who have issues reading small digits.
Before using this device to check your blood pressure, sit down and relax for 5 minutes. Sit near a table, so that you can place your hand comfortably on the table and relax. Then position your wrist close to the level of your heart.
It comes with a storage bag. It is so light in weight and compact that you can carry it anywhere you're traveling. It can save around 9 readings. It will display the previous readings along with their time and date when it was monitored, thus allowing you to track your blood pressure readings.
Pros:
Easy to use – It is quite simple and easy to use. Just turn it "ON", and it is ready for use.
Big LED screen – The screen is quite large which makes it easy to read the readings. Those who can't read small letters and numbers; this is the perfect one for them.
Light and compact – It is easy to carry it anywhere. It comes with a pouch, and it can be taken to a gym and even on vacation.
Cons:
Cuff Size – Ensure that you check the cuff size. If it doesn't fit well then, it will not give accurate results.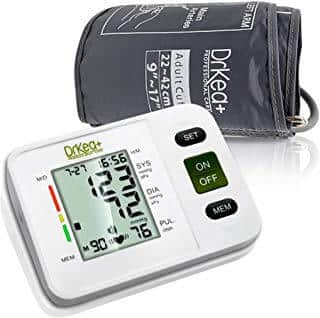 Omron BP786 – 10 Series Upper Arm Blood Pressure Monitor Plus Bluetooth Smart
Omron is a highly recommended brand by doctors and physicist, and it ranks as the number one seller of blood pressure machines. It can store up to 200 readings on your phone. The TruRead technology used in this device takes three readings in a gap of one minute and gives you the average result. It has a backlight and extra large fonts that you can easily read the digits displayed on the screen. It has multi-colored lights to compare your reading with the normal level of blood pressure.
Pros:
ComFit cuff – The cuff is designed to fit around your arm to give an accurate reading. It is quite comfortable and easy to adjust the cuff.
Wireless and Bluetooth Connectivity – It is a wireless monitor and has Bluetooth connectivity. It is compatible with iPhone 5, iPhone 5C, and iPhone 5S.
Track your reading on Smartphone – Your smartphone can store the reading and track up to 200 readings.
Cons:
Android phones – It is not compatible with a few android phones.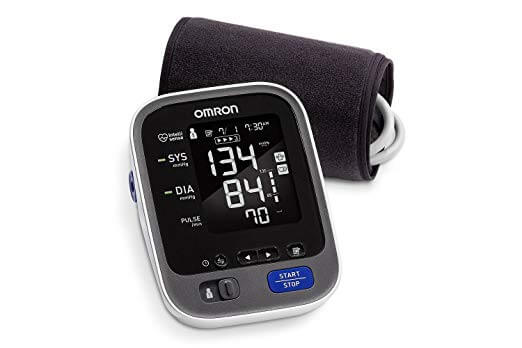 Automatic Wrist Blood Pressure Monitor by Paramed
In 30 seconds it displays your blood pressure reading at the press of a button. It has a big LCD display. This makes it easy for senior citizens or anyone with an eyesight problem to see the reading clearly. It has a storage capacity of 90 measurements. You can keep track of your readings and even compare it with your previous readings.
Paramed is offering a 30-day guarantee with 100% money back. You can rest assured of this product.
Pros:
Easy to use – It turns on at the press of a button, and you can see your readings in seconds. It is quite simple and easy to use.
Large display – The LCD display is quite large that it gives clear visibility to people who have problems viewing small numbers or letters.
Storage Capacity – It can store 90 measurements. It can track and compare your previous readings as well.
Cons:
Display – The display doesn't have a backlight. You have to be in a well-lit room to see the readings.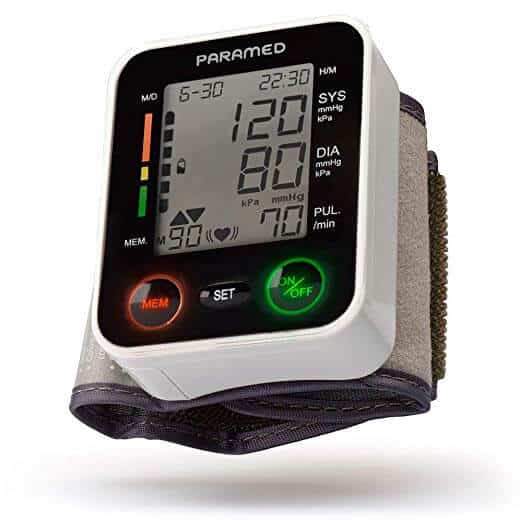 Conclusion
These quick reviews will help you in deciding which blood pressure monitors to buy. Even though you have a blood pressure monitor at home, do visit your doctor at regular intervals.
Once a while test your blood pressure monitor by taking it to a doctor and comparing the readings with the doctor's apparatus. Always sit and relax for 10 to 15 minutes before checking your blood pressure level. These are the best portable blood pressure machines on the market.
Avoid checking your blood pressure when you're stressed or busy with work. Relax and enjoy life, take care!